St Patrick's High School, Iten
On Wednesday 14th September, a fresh faced TaD- whose bright-white skin tone was equalled only by his bright white shoes- was walking down the road in Iten when he happened to catch a glimpse of a small sign. Much of the paint had peeled from the sign but, nevertheless, it still clearly indicated the entrance to St Patrick's High School. If, at this point, TaD appeared nonchalant, it was only because his outward signs of excitement had been dampened by the 48 hours of travelling he had had to endure in the two days prior. Indeed, Wednesday 14th September was TaD's first day in Iten. Thus he was enthused, with the energy and curiosity so common amongst travellers in the early days of their voyages, to submerge himself in the town. And so it was on account of said energy and enthusiasm that TaD decided to take the detour from the main road to witness, or at least steal a photograph of, the famous school.
A photo of TaD on Day One, outside St Patrick's. (Note the white trainers and white skin. Note also the surplus weight- particularly visible on Dougie)
St Patrick's High School Iten was founded by Irish missionaries, the Patrician Brothers, in 1961. During this time, Kenya was moving towards independence: the Mau-Mau Uprising, often cited as one of the first signs of organised struggle for de-colonisation in Kenya, began in 1952 and the nation finally achieved self-government in December 1963. As Dennis Newman has noted, in the 1950's there was a real 'thirst for freedom' in Africa and education was seen as the best medium through which to acquire such freedom. Some missionary groups, like the Patrician Brothers, were particularly responsive to this sentiment. Accordingly, a guiding motivation of some large missionary-ran boarding schools, like St Patricks in Iten and St Mary's in Nyanza Province, was to encourage the growth of an 'educated elite' of Kenyan's who could run the country upon the (increasingly inevitable) departure of the British Imperial government.
The aim of the Patrician brothers in Iten was 'to put the structures in place to enable and empower the people with the knowledge and skills to move forward into a better future and for the country to take its place among the independent nations of the world.' The school is interesting because the most prominent way in which it has achieved this aim is not through 'orthodox' channels such as government, health, business, or education but, rather, through athletics. This is not to discredit the work the school has done in those fields but instead to emphasise its pioneering role in middle and long-distance running in Kenya.
Alumni of St Patrick's include Peter Rono (

Olympic gold, 1988- 1500m)

, Matthew Birir (

Olympic gold, 1992- 3000m S/C)

, and Wilson Kipketer (

3 time World Champion; holder of 3 world records)

. Since the mid 1980s, the school has held seasonal running camps. These camps have developed the best talents in the country. Recent graduates of the St Patrick's camps, for example, include Augustine Choge, Isaak Songok and, most famously, the current 800m world record holder David Rudisha.
Lots of broadcasters and journalists have written about St Patrick's success in producing athletes. So on our first day, when we swung by to get a photograph outside the school, we were more than happy to receive an invitation, from one of the school's history teachers, for a guided tour of the place. Mr Kibichi's first stop was the dining hall, at the end of which stands a large placard displaying the school records:
The 'anything-but' modest school records
Even taking into account the fact that some of these records may have been set by students who weren't of (what we would consider in Britain as) 'school age', they are pretty impressive. As a point of comparison here are the Scottish national records.
1500m John Robson 3.33.84
3000 S/C Tom Hanlon 8.12.58
10000m Andrew Lemoncello 27.57.23
I must add that I (English) have been taking a bit of stick from Dougie (Scottish) over making this comparison; to clarify- I am just trying to show how good St Patrick's athletes are and I'm not attacking Scotland!
A lot of this success has been attributed to Brother Colm O'Connell who arrived in Iten in 1976 to teach geography at St Patrick's. Quite incredibly, given what his athletes have gone on to achieve, he had, at this point, no experience in athletics. However, with some encouragement from Peter Foster (brother of British athletics legend Brendan Foster) he began to get involved with the school's athletics team.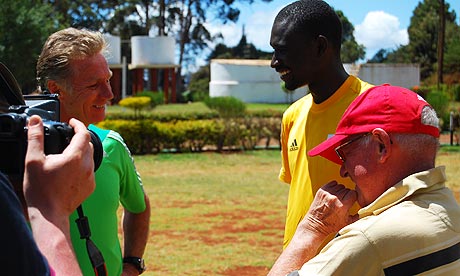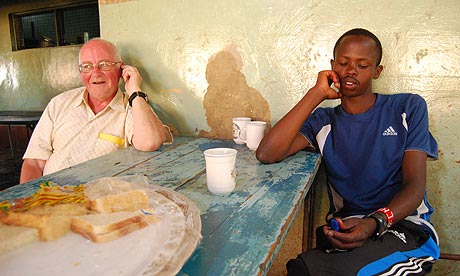 Sport has played, and, indeed, continues to play, an important role in boarding schools across the world. To some extent, its central place in the curriculum can be attributed to the influence of the all-boys English public schools of the nineteenth century. These elite, gentlemanly, institutions encouraged sport (rugby and cricket in particular) in order to teach their 'lads' lofty 'English' values such as obedience, discipline, leadership and 'manliness'. It was hoped that, by combining education of the body with education of the mind, schools could produce fully-formed noble Englishmen who could be sent out across the world to tell everybody else what to do. Many boarding schools in former British colonies still follow this pedagogical outlook, albeit less cynically of course. St Patrick's motto, for example, is 'Excellence in All Endeavours.'
At St Patrick's, however, 'doing athletics', is not merely seen as one element in a young person's development into a professional. Rather, success in athletics is an end in itself. On the tour of the school for example, as Mr Kibichi walked us through the yard, he told us that 'only'(!) 25% of the pupils want to be professional athletes when they grow up.
The success of the school's athletes really began to take off in the late 1980's and it has continued on an upward trajectory unto today. It is no coincidence that during this same time period, Iten has transformed from a small African farming village to a town built upon the money made by its professional runners, and by the many athletes who come here from all over the world to train.

As Brother Colm has said,

'traditionally, African people relied on agriculture for their survival, now they look more at sport as a means of a livelihood.'
Road sign upon entering Iten
Since our first visit to St Patrick's I have been fortunate enough to establish stronger links with the school, and have even managed to speak to Colm himself. He has now retired from teaching and works as full-time coach to David Rudisha, Augustine Choge and Harun Keitany, all of whom have houses next to the Brother's within the school grounds. I didn't really appreciate it on the first day but subsequent visits have made me aware of the incredibly serene and simple environment within the school grounds. Whilst Iten town is generally a relaxed place there is an underlying sense of urgency. I guess this is created by the hundreds of runners who live here in a state of constant desperation and who are training at full-tilt every day in order to improve their times and, it must be said, get to live, or at least race in, Europe. The tranquillity at St Patrick's, Brother Colm told me, is something those involved in the school's athletics have worked hard to cultivate. Small and secluded, and no great piece of architecture, the school could easily be missed. But it is the very basic and relaxed atmosphere that Colm believes has been crucial to his athlete's success.
Last week, on the 22nd October, Kenya celebrated 'Mashujaa ('Heroes') Day' to commemorate all those who have dedicated their lives to the promotion of the Kenyan nation. News programmes throughout the week have been showing montages of Kenyan heroes. Featuring prominently amongst footage and photographs of the country's exalted political leaders (such as, Jomo Kenyatta, Tom Mboya, and Wangari Maathai) were Kenya's athletics heroes: Kipchoge Keino, Wilson Kipketer, Paul Tergat, Linet Masai, David Rudisha. Like David Beckham, Chris Hoy and Steve Redgrave in Great Britain, Kenya's sporting heroes play a crucial role in bringing the people of the country together. Along these lines the case can be made that, in its own way, through athletics, St Patrick's High School Iten, a modest institution in a small town, has in fact made a vital contribution to the growth of the Kenyan nation and the way Kenyan's feel about themselves.
TaD, week 7- a little more comforatble in Kenyan surroundings than on Day One